Virat Kohli-Anushka Sharma ranked among world's hottest sports Power Couple
When a superstar from one field pairs with a superstar from another (or the same field), you get a Power Couple. And, like in any other walk of life, sports too have witnessed a number of power couples. Here, Hindustan Times rates — using the credentials and achievements in their field, their brand value and international recognition as parameters — to rank the top 10 sports power couples from the last three decades. Needless to say, Virat Kohli and Anushka Sharmais right up there, alongside couples such as David and Victoria Beckham and Andre Agassi-Steffi Graf.
THE TOP 10 (in reverse order)
Stephanie McMahon and Triple H (Rating- 5/10)
Triple H (Paul 'Triple H' Levesque ), the WWE champion, is married to Stephanie McMahon, who happens to be the daughter of WWE impresario Vince McMahon, a former wrestler. The pair first met on the sets of WWE, where they acted as a married couple as part of the show's fake storyline. Though they were shown taking a divorce in the show, in real life, they developed an amazing chemistry which resulted in their marriage.
Zaheer Khan and Sagarika Ghatge (Rating – 5.5/10)
The latest addition to the list of sports power couples are former Indian cricket team pacer,Zaheer Khan, and Bollywood actress, Sagarika Ghatge. Zaheer and Sagarika got married recently and has, of late, received a lot of attention on social media with their honeymoon posts.
Zaheer, who is rated as one of India's greatest fast bowlers, was hugely popular during his playing days. Sagarika, who burst onto the scene of glamour with a powerful performance in Bollywood megahit 'Chak De India', is a known star in Bollywood.
Caroline Wozniacki and David Lee (Rating – 6/10)
Danish tennis star Caroline Wozniacki, and American basketball player David Lee, are recent entrants to the list of sports power couples. Wozniacki, who held the No. 1 rank in women's singles for a total of 67 weeks during her career, got engaged to Lee, a 34-year-old NBA free agent, last month. Wozniacki was earlier involved in another high-profile relationship with golfer Rory McIlroy. The couple were together for a period of three years between 2011 and 2014 before calling it quits.
Sania Mirza and Shoaib Malik (Rating – 6.5/10)
Indian tennis star Sania Mirza and Pakistan cricketer Shoaib Mailk, make for a perfect match considering the volatile relationship India and Pakistan share. Sania and Malik receive love and affection from people on both sides of the border. Sania never forgets to attend a cricket match in which Shoaib is playing and the Pakistan cricketer does the same when his wife is in action on a tennis court.
Both of them are equally successful in their respective fields. Sania is India's most successful female tennis player with a total of six Grand Slam titles in doubles and mixed doubles. Malik, on the other hand, has been part of Pakistan's ICC World T20 (2008) and ICC Champions Trophy (2017) winning teams. The couple is also a hit on social media as Sania, in particular, receives a lot of attention from her fans on Twitter and Instagram.
Ana Ivanovic and Bastian Schweinsteiger (Rating -7/10)
FIFA World Cup winning German footballer Bestian Schweinsteiger and former No. 1 tennis star Ana Ivanovic form a high-profile power couple. The pair got married in a grand ceremony at the famous Palazzo Cavalli in Venice in 2014. Schweinsteiger was part of the German team that won the FIFA World Cup in 2014, Ivanovicis a former French Open (2008) champion.
Serena Williams and Alexis Ohanian (Rating – 7.5/10)
American tennis superstar Serena Williams is one of the greatest players of all time. With 23 Grand Slam singles titles in her kitty, she is the most successful tennis player in the Open Era. Alexis Ohanian is a co-founder of the social news website Reddit. He features among America's top entrepreneurs.
Ohanian and Serena joined the club of power couples when they got engaged in 2016. The couple was blessed with a daughter, christened Alexis Olympia Ohanian, in September this year, and they tied the nuptial knot in November.
Gerrard Pique and Shakira (Rating – 8/10)
Colombian singing sensation Shakira Isabel Mebarak Ripoll, and Spanish footballer Gerard Pique first met during the shooting of Shakira's song 'Waka Waka' in 2010. Pique was among a group of footballers who appeared in the song which acted as the anthem for the 2011 FIFA World Cup held in South Africa. They soon started dating and settled in Barcelona. In 2013, the couple was blessed with the first child, named Milan Piqué Mebarak.
Both Shakira and Gerrard have been successful in their respective fields. While the Columbian singer is one of the most popular stars of her generation, Pique played a key role in helping Spain lift the 2010 FIFA World Cup and UEFA Euro 2012 crowns, and is also an integral part of the all-conquering FC Barcelona.
Virat Kohli and Anushka Sharma (Rating – 8.5/10)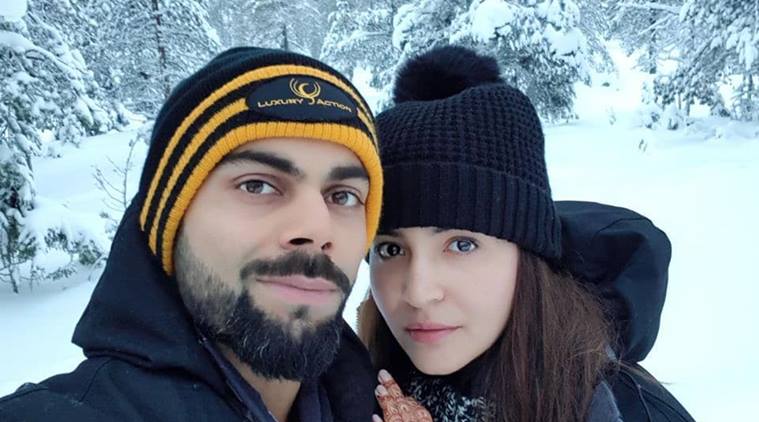 The wedding of Bollywood actress Anushka Sharma with Indian cricket team captain Virat Kohli has been the talk of the town. The couple, who first met during the shoot of a commercial in 2013, has been dating since 2014. They got married in a lavish ceremony in Milan a couple of days ago.
Kohli and Anushka epitomize the definition of power couples as both of them are self-made stars in their respective fields. While Kohli holds a number of batting records in cricket, Anushka has starred in many Bollywood blockbusters.
2.Victoria Beckham and David Beckham (Rating – 9/10)
English footballer David Beckham and 'Spice Girl' Victoria Beckham are one of the most adored celebrity power couples of the current generation. With their super hots looks, the couple has been a photographer's delight for years.
They first met during a charity football match in 1997, and after dating for two years, decided to walk down the aisle in 1999. Nicknamed "Posh and Becks" by the media, the couple celebrated their 18th marriage anniversary on July 4 this year. One of the top paid footballers during his playing days, Beckham's legend grew while playing for English club Manchester United, where he won six Premier League titles, two FA Cup trophies, and a UEFA Champions League crown. Victoria, on the other hand, shot to fame with the all-female pop group, Spice Girls.
Andre Agassi and Steffi Graf (Rating – 9.5/10)
The top slot in the list of best and most-loved sports power couple from the current era goes to American tennis great Andre Agassi and his equally illustrious wife from Germany, Steffi Graf. The couple has been an amazing hit both on and off the field. Between them, Agassi and Graf have won 30 Grand Slam crowns (Steffi-22, Agassi -8) and two Olympic gold medals (one each).
The pair were seen as an epitome of grace and loyalty by their fans off the field too and they have proved it right by being together for the last 16 years.
Reference: www.hindustantimes.com